ARE YOU READY TO
DIVE

IN?
There are three sites to choose from!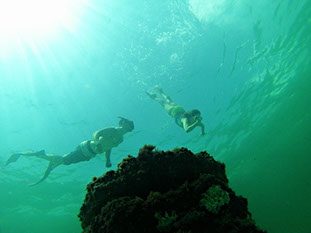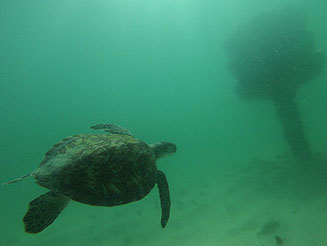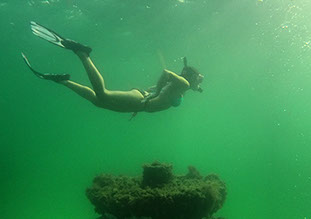 The Gulf site is located directly south of
the Sea Oat pavilion. This is the furthest
southeast parking area of the park.
Follow the boardwalk to the beach and immediately head east approximately 100ft.
The site is marked (on shore only) by two large PVC posts positioned on the sand dune and is 340ft south of the mean tide line. It is immediately beyond the second sand
bar.
The east sound side reef is the smallest of the three sites located north-west of Sandpiper pavilion.
This site is the most accessible of the three sites and is identified on all four corners with pilings marked with ""SNORKELING REEF" "NO MOTORIZED VESSELS".
The site is about 150ft from shore and consists of 28 structures spaced 10ft apart in 12ft of water with the tops at 7ft below the surface.
To get to this reef, take the first left after entering the park. It is located directly north of Red Drum pavilion and the Navarre Beach Science Station.
The site can be seen from the beach.
This site is more conducive for diving than for snorkeling and is identified on all four corners by pilings and marked with ""SNORKELING REEF" "NO MOTORIZED VESSELS".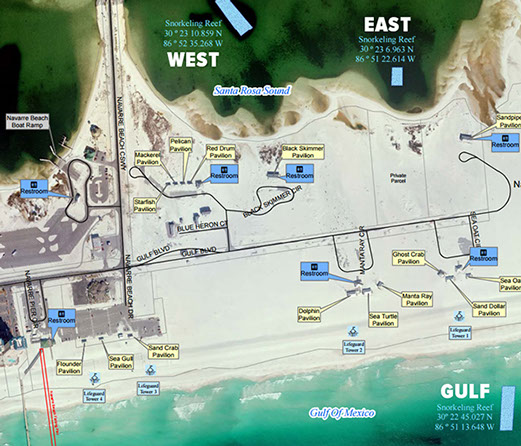 Our near-shore reefs allow people of all skill levels to easily view marine life and ecosystems supported by the reefs.
Navarre Beach Marine Park
County park with full services
A great location for diving, the park contains pavilions with complete facilities:

paved parking
restrooms
fresh water showers

Dive at NO COST from sunrise to sunset!
Lifeguards during certain times of the year
The sites are close to shore and are shallow enough

You do not have to be a diver to enjoy the reefs
DRIVING DIRECTIONS TO PARK
From Pensacola/Gulf Breeze ( FL-30 E/US-98 E )

Turn right onto FL-399 N
Turn left onto Gulf Blvd

From Destin/Ft. Walton ( FL-30 W/US-98 W/Miracle Strip Pkwy SW )

Turn left onto FL-399 N
Turn left onto Gulf Blvd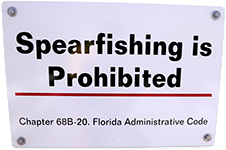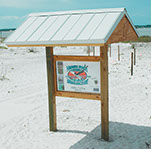 There are local dive shops in DESTIN, PENSACOLA, and GULF BREEZE



Here are our contact details:
Have any questions?
If you have any questions about diving in Navarre Beach, you can always email us at info@divenavarrebeach.com or you may reach us by phone. We will reply to you as soon as we can!
850 123 4566
*There are no fees to enter the park, hours are
sunrise to sunset.
Paved parking, restrooms, and fresh water showers are available at each pavilion.
Because of the close proximity to
swimming areas, spear fishing is not allowed.
This is a project of:
Q: My son and I are new to diving and have a couple questions on diving this site.. First can you explore east and west on 1 tank or are they too far apart. Second do we need to consider tides and such when diving the gulf site? Ie We where going to dive Fort Pickens one time and was told we had to be in the water an hour before high tide. Just wondering if this is the case here also.
A: For the Sound Side reefs, you can usually do both on the same tank but you will need to exit from one and go to the other and re-enter unless you want to do a long fin transit on the surface. Sound side visibility is better in the fall and winter when the algae decreases but if you like to see the small stuff on the reef you can still do a good dive. I would check out the smaller east side reef first if you plan to dive the sound, it is shallower and closer to shore. Tides are not a factor in the Sound side. For the Gulf, Tides are not a factor but sometimes currents are. The reefs are close to shore and easy to find most of the time (October is a very good diving month).
You might find the following websites helpful.
navarrebeachmarinesanctuary.com
www.navarrebeachlife.com/live-hd-1080-zoom-cam
magicseaweed.com/Navarre-Beach-Surf-Report/651/